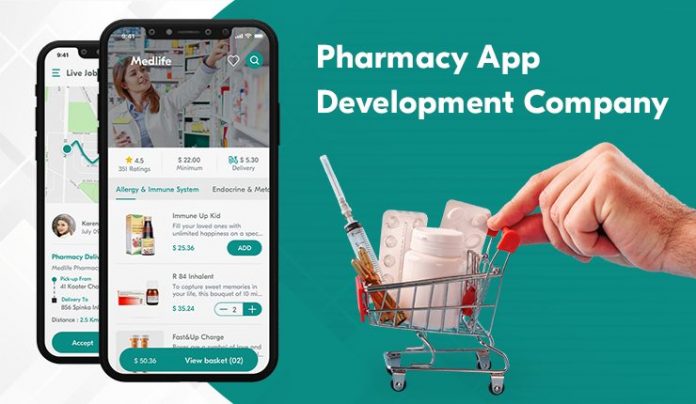 Last Updated on November 19, 2022 by Hammad Hassan
Are you someone who wishes to mitigate the woes of customers in relation to standing in long queues for making medicine purchases? Yes? Then this comprehensive guide will make things clear for you. With time, especially post the Pandemic, it is necessary to make medicines quickly available for customers. Also, health has become an area to place a strong focus on for customers. This is where online pharmacy apps have become a must-have solution not only for the medicine business but the customers as well.
With the app, end-users can find the medicines seamlessly, order them and get them quickly delivered to their doorstep. Also, the medicine delivery business can successfully stand out from its competitors.
So, are you operating a medicine delivery business? Do you also plan to digitize its operation? Yes? Read this comprehensive guide then. After reading it, you will get clarity in the following areas.
1. What is a pharmacy delivery app?
2. Unique features of the pharmacy delivery app
3. Statistics depicting the profitable scope of pharmacy delivery app development
4. How to develop the pharmacy app
5. Why should you get the pharmacy delivery app advantage?
6. Popular pharmacy delivery apps in the market
Are you ready now to get your pharmacy delivery business a digitized appearance? Read this blog and get your venture an online avatar now!
Online Pharmacy Apps – Introduction
The online pharmacy app is a solution that makes it easy for users to order medicines, conveniently find the ones they want, and have them tracked until delivery gets done.
Note here- the task for performing pharmacy delivery through an app demands the presence of some features. Look at the stand-out ones below.
Unique Features of the Online Pharmacy Apps
• In-app consultations allow customers to connect with a medical professional and get health queries cleared.
• Electronic health record sharing gives patients the desired aid to share their test reports, prescription records, etc., directly from the app.
• Local store search to find pharmacies nearby and get medicines on-the-go
• In-app scanner to help the user upload physical prescriptions or test reports on the app
• Photo prescription recognition powered by AI to help medicines get added automatically to the cart
Thanks to these unique elements in the app, the business has a lucrative future.
Statistics Depicting Profitable Scope of Online Pharmacy Apps
Check out this graph below:
Image Source: fortunebusinessinsights.com
The graph above displays the rise in revenues that will take place around 2026 in the ePharmacy market.
This is not the only outstanding statistic. Below, I present some attractive numbers that will make it easy for you to understand why the solution has a lucrative future.
1. The market value for online pharmacy apps is going to become $434.3 million by 2030
2. By 2027, the global online pharmacy market will observe a growth of $182.22 billion.
3. User penetration will become 29.04% by 2027
These numbers are enough to give an idea of the nature of popularity these solutions have achieved so far. So, if one is a medicine business on the quest to digitize how they provide medicine delivery services, they know how to perform this action.
How to Develop Online Medicine Delivery App? Steps to Follow
· Conduct Competitor Research
Conducting competitor research is key to understanding what users currently get and knowing the level of satisfaction.
Therefore, it is critical to perform this step. Check the services they offer, the missing elements if any in their solution, and so on. This will help you to get new ideas for creating an out-of-the-box solution.
· Have Knowledge of Different Monetization Models
There are three main models for generating money through the pharmacy delivery app you develop. They are-
1. Through charging fees to the third-party vendors for the products they sell
2. Through subscriptions being charged to the end-customers
3. Through advertisements to promote medicines, different services, etc., and then get paid for those listings
Know the three and select one that is at par with your business requirements, so you get the capability to earn good revenues.
· Know How App Operates
It is important to know the app functionality before you even embark on the journey to build the pharmacy delivery app.
1. Customer enters app
2. Adds location
3. Gets a list of pharmacies nearby
4. Selects a pharmacy matching needs
5. Choose medicines/medicine you need
6. Order medicines
7. Track delivery
8. Get medicines delivered
With the idea of this aspect, let us hop on to the next step.
· Add these Features
Here are some features you can include.
· Connect with On Demand Pharmacy App Development Company Offshore
This is probably one step you cannot miss when you embark on the journey to develop an online medicine delivery app. Visit sites like GoodFirm and Clutch to locate a dedicated partner. Check the portfolio and connect with the representatives. Discuss your requirements. Thereafter, assess the way they perform custom pharmacy delivery app development services. This will help you understand well the scalability you will be able to achieve and examine how well your solution will perform among end customers.
Knowing the different ways to build a unique medicine delivery app, it is important to understand why it has a beneficial value for the pharmacy delivery business after all.
Why is Online Pharmacy App Beneficial for Medicine Business?
The online pharmacy apps give strength to the traditional pharmacy businesses to reduce difficulties related to the way they offer different medicine delivery services.
This is how they achieve this-
1. The app offers a seamless buying experience to customers and allows the business to have direct interactions with them. This is based on reviews, discounts offered, and so on. All this in the end gives the business the flexibility to build a customer base that remains loyal to the services they offer.
2. Automates the way inventory management gets performed. With the app allowing order processing to take place seamlessly online, hence stock adjustment is easy too. Therefore, executing actions like re-order, knowledge of approaching expiry dates, etc., is simple to execute.
3. Helps business to get a brand image. Through studying the user pattern when interacting with the app, the venture provides push notifications related to discounts for medicines, etc. This makes the image enhancement for the brand a seamless task.
Let us now get the names of the popular online pharmacy apps responsible for the business becoming so popular and for attracting the attention of those in the quest to digitize the way they offer medicine delivery services.
Popular Online Pharmacy Apps in the Market
• RiteAid
• NowRx
• Medscape
• Epocrates
• Patient Access
Wrapping Up
For a traditional pharmacy business to ensure its survival, it must digitize the way it offers services. This is where online pharmacy apps and their adoption is important. Doing so will help them stand out from their competitors. You should also know how to build the app.
This will help you to automate how you offer medicine delivery services and manage operations conveniently. So, give your set up a competitive edge and connect with an on demand pharmacy app development company.
They will support you throughout the way to get an app that successfully achieves scalability and growth and makes medicines available anytime for the end user.
Author Bio:
Eliza Smith is a Digital Marketer at PeppyOcean which is an eminent on demand app development company that provides on demand mobile app development solutions across the globe, and they provide multiple products like food delivery apps, grocery apps, Uber clone, taxi booking apps and so many others. Sometimes, I like to write blogs and articles on the latest technologies and marketing.
Thank You